Sydney Mouse Boarding
Click Link to book your mice into boarding 
Sydney Mouse boarding has never been easier than at B i r d s v i l l e.
The new modern premises at 684 Botany Road, Alexandria, NSW has habitats/cages designed specifically for mice and placed in an area that is not too bright to keep them comfortable whilst you are away.
Next time you go on holidays, away on business, or need to find the perfect temporary home for your precious fury friend, Mouse boarding at birdsville is the answer. Our caring Birdsville team who come from animal welfare backgrounds such as vet nurses, RSPCA, and Zoos will ensure your pet Mouse will be well cared for with our premium service in our climate-controlled premises with dust internal pressurizing reduce dust. You will have peace of mind that your loving companion is well feed, happy and secure.
When you have your dates, just BOOK ONLINE. Our team will require you to drop off during work hours displayed on our website and will then coordinate, arrange and care for your mouse in your absence. There is no need to bring a cage and we provide feed. Just bring one or more of your mouse toys favorite running wheel or if you don't have any you can purchase a few at B i r d s v i l l e when you bring your mouse in for Boarding.
Mouse Boarding Cage measurements
43cm long    30cm deep   and    15 cm high
Sydney Mouse Boarding Facility
* Advanced Bookings are not necessary but advisable, especially during school holidays and over the Christmas/New Year period.
Sydney Mouse Boarding includes:
Morning
Daily cage cleaning/tidy (change of substrate and disinfected with vet grade F10 solution).
changing feeding of feed and water
Visual health checks
Afternoon
Freshly chopped fruit and veg, top up of low protein mouse pellets
Visual health check.
We are located on a major intersection of Sydney with a back to base alarm monitoring system with lots of CCTV cameras. We do not allow the public in the area that our boarding animals are kept, and the room is climate controlled.
The basics of rodent care include:
We provide secure, safe enclosure with protection from the weather extremes and draughts.
Balanced diet – Mouse Pellets with the addition of fresh vegetables and fruit.
Mite and worming prevention – for an additional charge we can provide this service, additional charge of $15.
Observation from many of our team members all employed for their skills and love of animal care, also throughout the day your fur babies get handling during cleaning and feeding.
Regular health examinations if we notice any unusual change in behavior, we will notify the owners.
wood shavings supplied as bedding for your enclosure.
As a nocturnal animal they do not like to be kept in bright places. They prefer low lights as they have very sensitive eyes adapted to seeing well in the dark so we will make sure they are looked after somewhere they will feel more comfortable.
mice are very prone to respiratory disease, so the cages are quite open at the top to allow plenty of ventilation.
Please Note: * Day of drop off and day of pick up is inclusive of price, boarding is priced per day.  So, there is no confusion, if you drop your mouse in for boarding on a Monday afternoon and pick your mouse up the next day on the Tuesday morning this counts for 2 days of boarding.  For any extra care such as added supplements or medication, an additional daily fee will be charged.
Your mouse will be in an active room with people frequently in the room they will never feel alone.
What you need to bring for mouse boarding Sydney
You will need you mouses favorite chew enrichment toys to play with during their stay. This is a requirement for all animals boarding with us, as it is our policy to provide stimulation and behavioral enrichment toys to our animals.  You can bring your own toys or purchase some new toys at Birdsville. We will not board mice without at least 1 enrichment toy, as your mouse will naturally miss the owners (you) while you are away.
Please Note: If you are aware your mouse is with any diseases or illness it will not be able to be bordered at our boarding facility as we are not vets.
There is also a risk of your animals fighting if you have more than one in the enclosure.
Mice thrive on human interaction and require time and effort to be maintained in good health. Many of the rodent problems we see here at Birdsville or now called Petsville are all domestic animals which come from laboratory stock. Sadly, these beautiful little rodents were bred for cancer or blood research and do have short life spans.  In the wild, as a prey animal lots of hungry carnivores Rats and mice as a tasty snack, so just like our other exotic species, rodents hide signs of disease and injury. As Rats and mice have such short life spans and have genetic tendency to be susceptible to certain diseases that all domestic stock carry.  In the wild they can live for 3 years but not quite as long for domestic mice which is between 1 and 2 years old, as a prey animal lots of hungry carnivores see mice as a tasty snack, so just like our other exotic species, rodents instinctively hide signs of disease and injury for as long as possible.  Which makes it difficult as a sick mouse can look like a healthy mouse.  Signs to look for are puffing up more than usual or wobbly on the feet if your mouse is not feeling well or coming to the end of their short life.  On a positive note, what they lack in longevity they sure make up for in cuteness.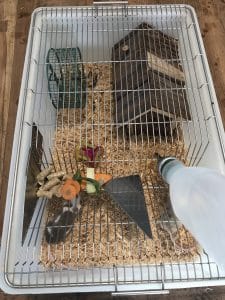 Please Note:
Animals with any diseases or illness are not able to be bordered at our boarding facility, due to risk of infection of other animals.
When boarding, there is always a risk of stress with small delicate animals like mice, as it is a new/different environment.   To minimize the chance of this, we require all boarders to have enrichment toys and a hide (to be provided by the owner).
Animals kept with another animal in a cage (even if they share a cage at home) can in rare cases become territorial and attack each other in new/different environment.
Although rare some enclosure mates can attack the other enclosure mate. If an enclosure mate is being aggressive or bullying the other enclosure mate, it can cause stress. Stress can be difficult to spot. If we notice this, we will separate them, the owner will be notified, and an additional charge will be charged.
Small animals, especially Guinea Pigs can be very fragile. Stress, worms, mites, lice, flea, liver failure, kidney failure, change of environment, anaerobic bacteria in the gut, urinary tract infection, respiratory problems, Mycoplasma, Anorexia and Lethargy, abscesses, cancers, tumors heart failure and overgrown teeth can all cause weight loss, illness, and sudden death.   Many of these issues can be difficult to spot in mice.
Our team are passionate, young animal lovers, ranging from junior to senior team members, with backgrounds in animal welfare and care. Previously working with the RSPCA, zoos, as vet nurse and other animal welfare organization.
They love their jobs and strive to provide the highest level of care for your animal while in boarding.
If in the unusual circumstance you arrive early, we don't refund but you can organize to have credit with boarding, so if you arrive 2 days early, you will get 2 days' worth of boarding credit for your next stay.  If you arrive late, you will be charged those extra days, keep in mind animals that have been left in store for over 15 days in arrears past what has been paid for are deemed abandoned and will need to be moved on and found a home, once this has happened it can't be reversed.
Important Boarding dates to note.
If the date up requires for picking up or dropping off your animal falls on any of the dates or public holidays below, you will need to bring your animal in or pick your animal up a day earlier or later. On these dates, we will have people looking after the animals in store, but strictly not be taking in or allowing any drop offs or pick-ups on the following dates.  This is due to reduced or limited staff members due to public holidays or increased customer volume such as Christmas Eve.
During Christmas Holidays Boarding stays shorter than 14 days during the period between the 16/12/18 and the 7/1/18 will incur a $2.50 charge per day, keeping in mind the days we are not open are included.  Remember below are the dates that birdsville is not open to the public. Because we have to pay a staff member to feed and care for the animals you will be charged per day pet is in store.
New Years Day – 1st January
day after New Year's Eve – 1st January
Australia Day – 26th January
Good Friday – changes from year to year
Easter Saturday – changes from year to year
Easter Sunday – changes from year to year
Queen's Birthday – changes from year to year
Anzac Day – 25 April
Labour Day – in October changes from year to year
Christmas Eve – 24 December
Christmas – 25 December
Boxing Day 26 December
New Years Eve – 31 December